Introduction
Acorn Brokerage Limited trading as Acorn Insurance and Acorn Mortgages is regulated by the Central Bank of Ireland. Registration Number 513124
Acorn Brokerage is committed to protecting and respecting your privacy. We wish to be transparent on how we process your data and show you that we comply with the GDPR in relation to not only processing your data but ensuring that you understand your rights as a client. 
It is the intention of this privacy statement to explain to you the information practices of Acorn Brokerage in relation to the information we collect about you.
For the purposes of the GDPR the data controller is:
• Acorn Brokerage
• St Augustine Street, Galway
• When we refer to 'we' it is Acorn Brokerage
In this statement where we mention Acorn Insurance we are referring to the services provided by the brokerage as a general insurance intermediary and where we mention Acorn Mortgages we refer to the mortgages the brokerage provides as a Mortgage Credit Intermediary.
Please read this Statement carefully as this sets out the basis on which any personal data we collect from you, or that you provide to us, will be processed by us.
Who are we?
Acorn Brokerage is an Irish owned company based in Galway City.  We are dedicated to achieving excellence through delivering a superior customer experience nationwide by offering access to quality products, service and value for money in the Irish General Insurance Market.
Our Data Protection Officer / GDPR Owner and data protection representatives can be contacted directly here:
• In writing to: Acorn Insurance, St Augustine Street, Galway
• Email: dataprotection@acorninsurance.ie
• Phone: 1890 800 222
Purpose for processing your data
As an Insurance Broker, the personal data Acorn Insurance collect from you is passed on to an insurance company in order to obtain a premium and provide you with a quotation in relation to a service you have requested, arrange a transaction on your behalf, administrate, manage your policy, provide premium renewal details and assist with claims as part of your service.  
Acorn Mortgages collect personal data from you in order to assess your loan application.  
Personal data is collected by Acorn Brokerage to measure and/or understand the effectiveness of advertising we serve to you and others, and, where applicable to deliver relevant advertising to you.  The personal data we require about you (and where applicable, other people insured or named under your policy of insurance) will be gathered and stored safely as set out below.  Where personal data is provided relating to a third party to us, you must confirm that you have explained to them that you may have provided their personal data to us and that we will process such personal data in accordance with and for the purpose outlined below but not limited to:
Insurance Policy Data
Name, Address, Occupation, Date of Birth, Gender, Contact details, Length of residency in Ireland, Drivers Licence Details, Medical conditions, Penalty Point information, Details of Accident, Claims, Convictions.  Details of any cancellation, declines, special terms imposed and any non-motoring convictions, No Claims Bonus history, Name of current insurer, Current Renewal date, Bonus Protection, use of vehicle and Marketing preferences.
Financial Data
Including bank statements, payment card details, savings, debts such as loans and credit cards, income and expenditure, employer and pension benefits and other assets
Data Sourced from Others:
Claims History, Vehicle details and internet searches for house location etc.
Claims Data
Details of any injuries, details of health issues, and data relation to court proceedings.
Technical/Usage Data
IP address and other technical/usage data when you visit our website.
Why we are processing your data? Our legal basis.
In order for us to provide you with our Insurance and Mortgage Brokering services, Acorn Brokerage need to collect personal data in order to advise you and arrange any contracts of insurance or related transactions on your behalf with Insurers/Insurance Providers or lenders.  In some cases we may use your personal data to pursue legitimate interests of our own or those of third parties, provided your interests and fundamental rights do not override those interests.  Our reasons (lawful reason) for processing your data under the GDPR is: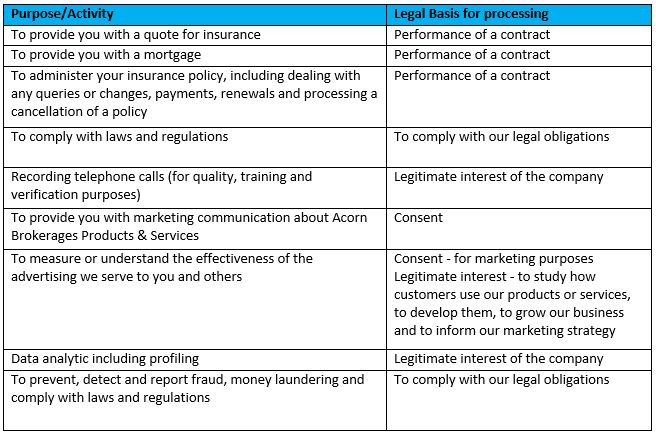 In any event, Acorn Brokerage are committed to ensuring that the information we collect and use is appropriate for this purpose, and does not constitute an invasion of your privacy in keeping with the EU's General Data Protection Regulation (GDPR) and Data Protection Act 2018.
How will Acorn Brokerage use the personal data it collects about me?
Acorn Brokerage will process (collect, store and use) the information you provide in a manner compatible with the EU's General Data Protection Regulation (GDPR). We will endeavour to keep your information accurate and up to date, and not keep it for longer than is necessary.
Special Categories of personal data
If we collect any special categories of personal data (e.g. health, religious beliefs, racial, ethnic origin – financial information is not classified as special categories of personal data) that we obtain your explicit consent.
Who are we sharing your data with?
We may pass your personal data on to insurance companies/Mortgage providers while we are in the process of carrying out the activities mentioned previously.   We may share your personal data with our representatives including our employees, agents and contractors including companies that provide services in relation to telecommunications and postage, data storage, document production and destruction, IT and IT security, fraud detection, making and receiving payments, data analysis and management information, credit checking, risk analysis, marketing and market research.  Any third parties that we may share your data with are obliged to keep your details securely, and to use them only to fulfil the service they provide on your behalf.  When they no longer need your data to fulfil this service, they will dispose of the details in line with Acorn Brokerage procedures.
If we wish to pass your special categories personal data onto a third party we will only do so once we have obtained your explicit consent, unless we are legally obliged to do otherwise or necessary for a task carried out in the public interest or for an exercise of an official authority e.g. a regulatory body.
We have issued all our third party processors with a Data Processor checklist asking them GDPR specific questions.
If we transfer personal data to a third party or outside the EU we as the data controller will ensure the recipient (processor or another controller) has provided the appropriate safeguards and on condition that enforceable data subject rights and effective legal remedies for you the data subject are available.
Data Subjects Rights:
Acorn Insurance facilitate you, our client's, rights in line with our data protection policy and the subject access request procedure. This is available on request.
Your rights as a data subject
At any point while we are in possession of or processing your personal data, you, the data subject, have the following rights:
• Right of access – you have the right to request a copy of the information that we hold about you.
• Right of rectification – you have a right to correct data that we hold about you that is inaccurate or incomplete.
• Right to be forgotten – in certain circumstances you can ask for the data we hold about you to be erased from our records.
• Right to restriction of processing – where certain conditions apply to have a right to restrict the processing.
• Right of portability – you have the right to have the data we hold about you transferred to another organisation.
• Right to object – you have the right to object to certain types of processing such as direct marketing.
• Right to object to automated processing, including profiling
• Right to judicial review: in the event that Organisation Name refuses your request under rights of access, we will provide you with a reason as to why.

All of the above requests will be forwarded on should there be a third party involved as we have indicated in the processing of your personal data.
Should you wish to exercise any of your rights above please contact our data protection officer at the contact details listed below.
Additional information we are providing you with to ensure we are transparent and fair with our processing to show our commitment to transparency to you
Retention of your personal data
Data will not be held for longer than is necessary for the purpose(s) for which they were obtained. Acorn Brokerage will process personal data in accordance with our retention schedule. This retention schedule has been governed by our regulatory body the Central Bank of Ireland and our internal governance.
Complaints
In the event that you wish to make a complaint about how your personal data is being processed by Acorn Brokerage or how your complaint has been handled, you have the right to lodge a complaint directly with the supervisory authority and Acorn Brokerage Data Protection Officer / GDPR Owner
Failure to provide further information
If we require your data for a contract and you cannot provide this data the consequences of this could mean the contract cannot be completed or details are incorrect.
Additional Processing
If we intend to further process your personal data for a purpose other than for which the data was collected, we will provide this information prior to processing this data.
Telephone Calls
Acorn Insurance record all telephone calls and all follow up calls for training, quality and clarification purposes.
Marketing
For marketing purposes we may contact you in relation to special offers, competitions, products and services where we believe this will be of interest to you.  If we send this information in the form of email, post, SMS, telephone or targeted online advertisements, we will only do so if you have provided us with consent.  We take steps to limit direct marketing to a reasonable and proportionate level.  If we share use or share information with online sources such as websites, social media and information sharing platforms to help tailor and improve our services or communicate with your effectively, we will respect any permission you have set about how you would like your personal information to be used.  Should you  prefer not to receive this type of communication from us, you can opt out by contacting us as specified below.  All emails and texts will also contain a link to unsubscribe or opt out of future marketing communications from Acorn Brokerage.
Cookies
Cookies are small data files sorted on your device whenever you visit a website. We use cookies to monitor customer traffic patterns on our website and to help us to optimise our site for an improved browsing experience. For further details on our use of cookies please refer to our Cookie Policy.
Website of Acorn Insurance
Please note that where you provide us with your personal information through a facility provided on our website or directly to us by email, you consent to us
A. Processing and administrating your personal data to perform all necessary actions to give effect to your request or instructions
B. Passing your request onto employees of Acorn Insurance, any company within the Acorn Life Group and other Acorn Life agents or intermediaries for the purpose of dealing with your request (at all times in accordance with GDPR)
C. Retaining a record of incoming and outgoing communications (e.g. Email)
D. Direct Marketing: Where you provide us with your consent, we may use your personal data for our own direct marketing purposes.  If later you wish to change your mind and no longer agree to us processing your personal information for direct marketing purposes, you may opt out at any time by contacting us at dataprotection@acorninsurance.ie
Information in the email we receive and send will not be disclosed to any third party except in accordance with points (b) and (d)
Contact Us
Your privacy is important to us. If you have any comments or questions regarding this statement, please contact us on
Email:  dataprotection@acorninsurance.ie
Telephone: 1890 800 222
Privacy policy statement changes
Acorn Brokerage may change this privacy policy from time to time at any time without prior notice. When such a change is made, we will post a revised version online. Changes will be effective from the point at which they are posted. It is your responsibility to review this privacy policy periodically so you're aware of any changes. By using our services you agree to this privacy policy.

This privacy policy was last reviewed in October 2020